Julie & Friends: The Power of Prophecy
Julie & Friends: The Power of Prophecy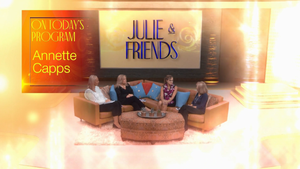 Watch Annette Capps on Julie & Friends on the TCT Network!
Episode 1: Annette brings you into the realm of the prophetic flow of the spirit so you can take your place in the coming revival. Click Here to Watch!
Episode 2: Annette discusses the outpouring of the Holy Spirit, prophetic anointing and the gift of prophecy today. Click Here to Watch! 
Click Here to get your copy of The Spirit of Prophecy by Annette Capps!