Prophetic Implications of Aaron's Rod
Prophetic Implications of Aaron's Rod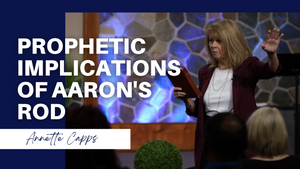 "The Spirit is saying today that a great resurrection is taking place. Dead dreams, dead relationships, prophetic words that appear to be dead like Aaron's rod will burst forth with buds and fruit and be fulfilled!"
Hear what the Spirit is saying about resurrecting things in your life that appear dead!
The rod of Aaron was prophetic of not only the resurrection of Jesus, but of the resurrection power that is in each believer. Whether we grasp this truth or not, the same Spirit that raised Jesus from the dead dwells in us now! The resurrection is not just something that is going to happen in the future after we die. I pray the Holy Spirit will reveal these truths to you today.
Watch Annette Capps as she ministers on Prophetic Implications of Aaron's Rod during Capps Ministries' staff chapel service Monday, April 3, 2023.